Our Reel Dream Makers TV Show on FOX Sports
EPISODE #1, SEASON 1
Tampa Bay Rays Team Up With Reel Dream Makers to Make This Experience a "Home Run" for the Bartles Foster Family.
EPISODE #2, SEASON 1
Maria & son Mister are no longer homeless! Thanks to Homeless Emergency Project (and Reel Dream Makers!)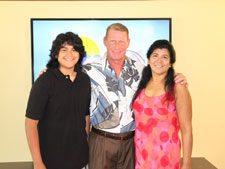 EPISODE #3 SEASON 1.
GUY HARVEY, Our show's fishing segments are full of tales!
EPISODE #4, SEASON 1
Tampa Bay Lightning CEO Tod Leiweki treats our guest family to an amazing time during this show. The Hebert family also has a surprise life-change!
EPISODE #5 SEASON 1.
Fred "Crime Dog" McGriff joins us for a home run of a fishing day! The Ringeisen family and PARC are featured with many surprises
EPISODE #6 SEASON 1.
Featuring Golf "Living Legend" Nancy Lopez -What a fabulous and giving person. Helping us bring joy and many surprises to the deserving Puckett family!
EPISODE #7 SEASON 1.
ODYSSEY MARINE EPISODE, Famous Int'l Shipwreck/Treasure Hunters Odyssey Marine. Thanks Greg and Mark!
EPISODE #8 SEASON 1.
BROOKE BENNETT, 3-Time Olympic Gold Winner and Big Brothers Big Sisters, help us make life better for the Gubala family.
Reel Dream Makers Sizzle Reel - 2013
Behind the Scenes of Real Dream Makers
TV Dream Team Behind the Scenes
Know a celebrity?
Have a charity?
Call us! We'd love to hear your story and may feature you on our show!